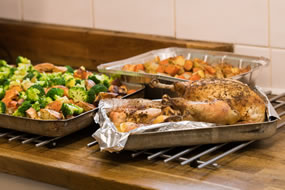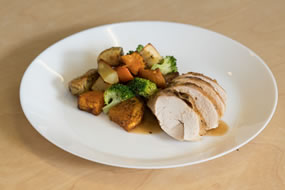 Here at The Folly we have a big passion for food.
We believe in the importance of feeding children a mix of flavours and textures from a very young age to develop a healthy relationship with food right from the start.
Our food is all cooked on site and uses the most local ingredients possible – including some grown on site during the summer months.
Our meat all comes from farms within a 10 miles radius of the nursery and our chicken and eggs are always free range.
Children attending a full day at The Folly can expect to be given 3 meals a day, as well as a morning and afternoon healthy snack of something such as fresh fruit, rice cakes or breadsticks.
All dietary needs are met and catered for including but not exclusive to: Gluten Free, Dairy Free and Vegetarians. The nursery must be informed in writing of dietary needs on entrance to the nursery and it is the responsibility of the parents to keep the nursery updated on any changes to their child's information. The Folly Nursery is a totally nut free nursery.
Our wonderful cook Monique is a trained Chef and before coming to us she worked at Hix in London's West End and the highly rated restaurant at Petersham Nurseries before relocating to Devon. She brings her expertise to bear in flavouring our award-winning food with natural ingredients so that our children eat their '5 a day' with gusto, while avoiding the additives like salt and sugar found in precooked meals and sauces that the government is keen for us all to reduce in our diet.
On top of your child enjoying the amazing food at nursery, a selection of our meals is available daily to parents as frozen takeaway meals. Please speak to a member of staff for further details.
National Nursery Recognition Award for Best Nursery Food in the UK goes to The Folly Nursery - 2019